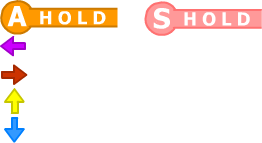 Command Keys are used every SCGMD game. Overall, for the entire series, it uses A,S,D,F/1,2,3,4 and ↑,→,←,↓.
Command Keys in the SCGMD Series
Edit
Throughout the series, the command keys for each game have been recolored and/or changed.
The Command Keys of the first game were colored ←,→,↑, and ↓. The Hold Commands in this game are A and S.
A new Hold Command was added in SCGMD 2 (D), while the arrow keys have been recolored (↑, →, ←, ↓).
In the third installment, the hold keys were remapped to 1, 2, 3, and 4. However, there is an option to switch to the ASDF configuration. The colors were again changed, with ↑, →, ←, and ↓ as arrow keys, and grey hold keys.
In SCGMD 4, all controls from SCGMD 3 were kept, while the colors were changed to (1234). The arrow keys also have the same color scheme.